Some of civilization's greatest inventions and most enduring achievements have resulted from strategic partnerships and business relationships. The Roman Empire. The Beatles. The Allied Forces of World War II. Peanut butter and jelly. You get the picture. In web development as in life, a happy and healthy partnership between client and agency lies at the heart of every great website and mobile platform. 
But a fruitful client/agency relationship is more than just a black and white business arrangement - or at least it should be. From designing an aesthetically attractive website that incorporates a killer user experience and functionality to helping you find the right hosting partner, the best agency and client relationships operate with a seamlessness and synergy that makes everyone feel like they're on the same team. But like any relationship, there are a number of factors that go into creating a partnership that will go the distance.
The Nuts and Bolts of an Agency Partnership: Functionality and Access to Enterprise Services
No one likes to admit they have weaknesses, especially in business. Projecting strength, knowledge, and authority at all times is the key to success right? Well not really. Knowing where your team falls short and where your company may be lacking in certain resources is critical for meeting your short and long term goals. 
You want to hire an agency that will fill in the gaps and bring tools and strategic partnerships that can be leveraged for your benefit. At 3 Media Web, we can offer our small to mid-level clients enterprise-level tools and functionality through our partnership with Pantheon, which gives our clients exclusive access to their extensive suite of tools and services. 
Some of the most common pain points that we address for our clients when building a new site or working on a redesign include:
Site migration - safely and successfully moving your existing content to a new CMS and servers if applicable

Git vs. command line vs. Composer? - finding the ideal environment for your needs

Access to extensive launch tools and ongoing site maintenance, hosting, and tech support

Scalable platform architecture that supports your website's growth and evolution 

Third-party app integration to expand on your service offerings and site functionality

Performance optimization

Cloud-based project management tools for distributed teams

Advanced and personalized troubleshooting

Web hosting
While it's important to find a partner that understands and can execute your company's overall vision and goals, you'll also need a partner that you can trust with the business of actually running and getting your site to function and deliver results.
What You Should Look for in an Agency Partner
Every client's needs and objectives vary, so you want to work with an agency that takes a personalized approach to every project, and will take the time to create a unique product that distinguishes your site and brand from your competition and the rest of the marketplace. Our projects all begin with a discovery phase to ensure that we're designing and building a site that captures the right tech specs as well as creative vision. 
The 3 Media Web website development process and workflow goes a little something like this: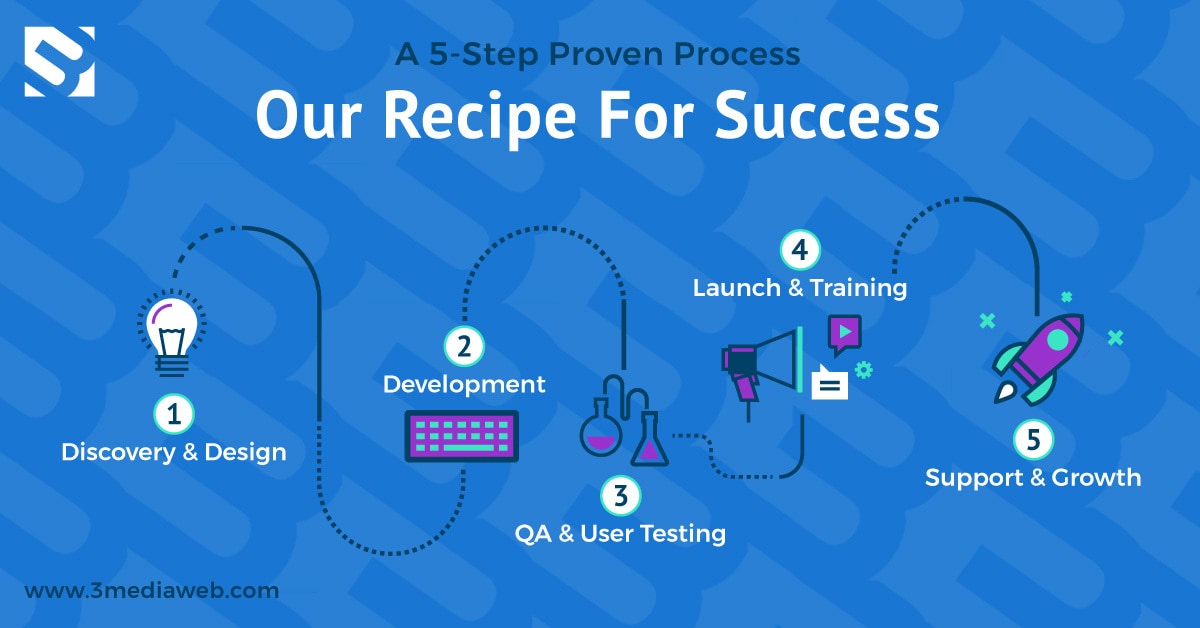 Discovery and design - the planning phase where we make a plan for the what and the how of the project
Development - the actual building of the thing
User testing and QA - but will it work? This is where we ensure that your new or revamped website is more than just a pretty face
Launch and training - we hand over the keys and show your team how to drive and maintain the site after the launch
Ongoing support and growth - a web development agency's work is never truly done. To that end, we continue to work for you beyond launch day
Questions to Ask Yourself When Vetting an Agency
Finding the right partner for your website build or redesign will require the right type of due diligence; namely knowing which questions to ask. Here are a few guidelines to get you started:
Will you be a big fish in a small pond (or vice versa?)
What does their current (and former) client roster look like? 

How much of their time and resources will be dedicated to your account? 

Do they have experience/expertise in your particular niche and market? 

Does their portfolio include successful projects of a similar size and scope? 

Will your project receive adequate attention is you're a small to mid-sized company?
Look for a Measurable Track Record of Success
Big names and flashy websites with a lot of bells and whistles may look impressive on the surface, but ultimately the point of your site is to get the job done. Do they have a long (and verifiable) list of happy clients and projects that have accomplished their intended goal? 
This is where analytics and tracking data comes in. Your ROI can be measured against a number of metrics ranging from user demographics to conversion rates and performance for individual pages and site features, so it has never been easier to determine whether your agency can actually deliver the goods.
Scalability
One of the major benefits of partnering with a good web development agency is the support and access to tools and resources that would otherwise be beyond your company's reach, or prohibitively expensive in terms of personnel and actual price tag. Simply put, can your agency take you from where you are to where you want to be?
Why You Shouldn't Try to Go it Alone
The DIY approach is great for ETSY shops and passion projects, but when it comes to a business website and your professional online presence, going it alone can hurt you. In addition to technical expertise and support, an agency can save you time and money (and a lot of trial and error induced headaches) by getting it right the first time. 
Some of the other critical services that an agency provides include:
SEO and content marketing

Targeted user experience design

Ensure mobile responsiveness 

Ongoing site maintenance and upkeep
Because as any great general, rock star, or sandwich maker will tell you, teamwork makes the dream work.