WebMD Ignite
Learn how the WebMD Ignite family of brands develops nimble tech solutions on Drupal, increasing its margins tenfold.
Image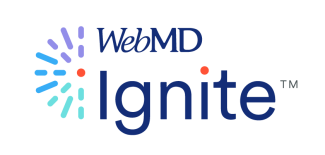 WebMD Ignite, a division of WebMD and Internet Brands, is the growth partner for healthcare organizations. One of its brands, formerly known as Mercury Healthcare, is a marketing healthcare technology company that built its business on Pantheon. From creating large-scale hospital websites to licensing software to healthcare providers, WebMD Ignite leans on Pantheon for its agile developer tools, efficient workflows and automation.
With some 200 websites on Drupal, this healthcare SaaS credits Pantheon with a 70% increase in speed to market and over $30 million in total campaign revenue growth. Here is how this partnership began. 
Healthcare Tech Growing Pains
The WebMD Ignite history on Pantheon started with Healthgrades.com, an operator of independent healthcare ratings, which was acquired in 2021 and rebranded into Mercury Healthcare. With 30 million patient visits a month, Healthgrades.com was custom-built on React with a large-scale Solr search engine.
"I saw how much effort went into maintaining that site from a WebOps perspective," said Andy Waldrop, VP Digital Experiences and Product Management at WebMD Ignite. "All the things that were required to manage multiple squads of pushing code updates and conflicts that would arise."
While looking for a WebOps partner that could take on security updates, guarantee stable uptime, and provide modern developer tools, WebMD Ignite first only considered HIPAA-compliant vendors. With one billion medical encounters recorded and used to build predictive models to facilitate finding patients at risk, the company had to be extra careful about which provider to trust. After evaluating multiple vendors, "we realized that even if your provider is HIPAA-compliant, you shouldn't store patient data in your CMS anyway," said Waldrop. Once they found a way to pass and store that data in a different secure location, the company was able to find "a solution in Pantheon at a fraction of the HIPAA-compliant vendor cost."
Pantheon for us has been an incredible partner to build a business from scratch.

- Andy Waldrop, VP Digital Experiences and Product Management at WebMD Ignite
Waldrop found value in the fact that Pantheon does not charge for sites until they go live. "Not being locked into a timeframe of large SaaS billing cycles has been outstanding. Health systems are merging and going through many external changes so timelines are hard for them. Look at Covid – it delayed everything. If you had a half-built website project and then Covid hit, I promise you, it got delayed by six months," said Waldrop. And if that unfinished project was on a major proprietary DXP, "inevitably you were overpaying for your SaaS license and you were not even live yet."
Building Microsites with Slack on Pantheon Takes Hours Instead of Days
WebMD Ignite works with healthcare systems across the country to help them with patient engagement in three ways: building CRM and predictive analytics models, offering full marketing automation journeys and licensing software to help clients build websites, doctor finders and microsites. 
Pantheon powers the company's digital experience pillar in a unique way. Using a custom Slack command, WebMD Ignite is able to build a microsite in hours instead of days. It allows them to go from a custom upstream site to a branded-content campaign filled with specific doctor data incredibly fast. For example, if a hospital wants to launch a joint-replacement awareness campaign, they can start with a standard package and then personalize it for their patient target group such as aging population or extreme sports seekers in a specific locale. 
The Slack tool uses Terminus commands to help configure Drupal campaign sites and carry out a sequence of actions that might involve their Custom Upstream or any of the individual sites. Aside from creating new campaigns, WebMD Ignite is able to add payments, create backups and support monthly updates on more than 200 sites asynchronously. 
"It's amazing how building on top of Pantheon has allowed us to innovate and move forward a lot faster in a very nimble way and just stop worrying about things that come up when we're managing a full web stack," said Waldrop.
Image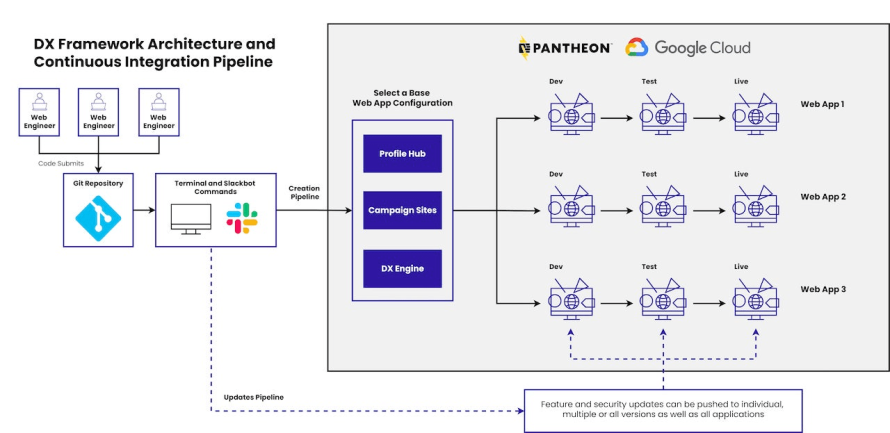 WebMD Ignite Drives 7x ROI on Pantheon
Automating with Pantheon's tools has resulted in a 7:1 return on investment for WebMD Ignite. The healthcare SaaS is now looking to introduce two more digital products on the Pantheon platform: a provider management hub that will allow hospitals to build websites without a single line of code and a command center for managing provider and location data. 
"Pantheon gave us a lot of confidence. They allowed us to get going with a smaller starting point, and then grow with it. We gained an incredible advantage in self-service. I'm very proud of what we've built -  it's 10 times the margin potential for us because we know what our Pantheon costs are. They're putting all the cards on the table face up, and we appreciate it." 

- Andy Waldrop, VP Digital Experiences and Product Management, WebMD Ignite