Student Applications on the Rise as Aims Community College Revamps its Website
Aten and Pantheon join forces to help the College reach more site visitors and increase conversions by 30% YoY.
Image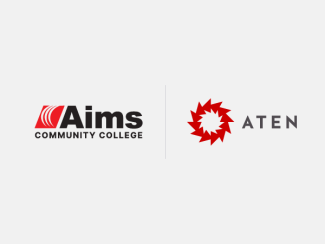 Introduction
Aims Community College is a public college in Northern Colorado. Offering more than 200 degrees and certificates, the College serves around 10,000 students. 
Aims's journey to digital excellence began with Aten Design Group and Pantheon three years ago. The College's marketing team had a complex and overcrowded website that was difficult to navigate for prospective students and admission officers.
Approach
Fast forward to the site's relaunch on Pantheon, the College saw an 11% increase in online applications. The Admissions office found their jobs made easier thanks to a comprehensive layout and up-to-date website updates.
We are up by 30% in our year-on-year growth across all website conversions. We made it really easy for prospective students and staff members with individual one-on-one time with them. We are very proud of that because that is really who we built the site for."

- Hunter Wilson, Director of Marketing and Website Communications
30%
Growth in Conversions YoY
11%
Rise in Online Applications
Piecemeal Digital Marketing 
When Wilson started at Aims Community College, he inherited a website hosted on-premise. That type of setup meant the site would be down for regularly scheduled maintenance. He worked to understand the existing navigation structure, identifying opportunities for improvement that would serve both internal teams and prospective students better. He recognized the untapped potential in evolving the editorial process to empower his team. 
Seeing an opportunity for transformation, Wilson and the team at Aims Community College partnered with Aten to refresh their website, optimize operational efficiency and equip the marketing team for scalable success. 
"Digital marketing was piecemeal and there was no solid strategy behind it in the past," recalled Wilson. "So having a website that looks good and is hosted on a provider that's always up is very important because the website's our largest marketing tool. Ensuring that people have a good experience when they go there, especially people that might have never known about us, is really critical."
Image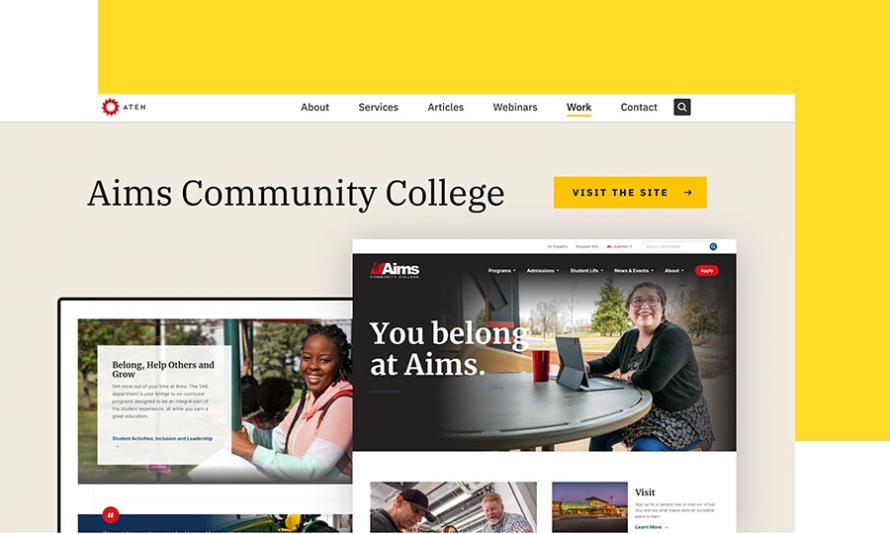 Moving to the Cloud with a Brand-New Site
Aten brought in Pantheon as its trusted WebOps platform, both to get Aims off their on-prem infrastructure and into the cloud, but even more importantly accelerate the development of the new site to deliver digital excellence.
Aten first conducted audience-led exercises with students and staff to build a simple and elegant navigation structure. With a new information architecture in place, the agency set about integrating and consolidating third-party services via APIs to create centralized user dashboards for education-specific audiences, including course catalogs from Acalog Catalog Management, events from Localist and visual assets from Brandfolder. 
They also focused on enabling web editors to craft compelling rich media and content with ease. With 80 content contributors making at least a dozen content updates a day, a comprehensive authoring experience in Drupal was a priority. 
The Aims community stays vitally connected and coordinated through their digital platforms. Pantheon's robust suite of modern developer tools has allowed our teams to move quickly and deliver features at the pace required by the college. As a result, Aims.edu is fast, secure and reliable." 

- Joel Steidl, Aten's VP of Engineering
Aims.edu Gets 35% More Total Users, Makes Web Team "Look Impressive"
Wilson's core web team is just two developers, two technical content writers, a digital marketer and a site administrator. In addition to allowing the much larger pool of content stakeholders to self-serve, having the new site on Pantheon relieved the developers from doing mundane maintenance tasks and enabled them to work fast on high-stakes projects with Aten. 
"We can spin up a new page in minutes. Once we have the proof-of-concept and new content, it's instantaneous. It makes us look impressive! And then we can share our work in the Test environment with the stakeholders before we go live. It's just great," said Wilson. 
Pantheon's technology and Aten's UX design allowed the team to finally focus on scaling their paid digital campaigns instead of manually maintaining content, without worry that the website would let them down. 
"We are doing things that probably other colleges, whether they are a four-year institution or a community college, haven't dreamed of… And Pantheon is a good partner because we don't ever have to worry about maintenance or the website being down. It just allows us to function like a real digital marketing team should," said Wilson.
The marketing team reported 35% more total users, 40% more page views and the bounce rate down by 34% year-over-year in addition to other achievements on Aims.edu. 
"We heard from our Enrollment and Admissions office saying the new site is clean and easy to navigate. The academic layout for each program is succinct and intuitive. That it was a classy piece of work!"