Pantheon Includes Object Cache Pro for Painless Improved Performance
Steve Persch , Director, Developer Experience August 29, 2023 Reading estimate: 3 minutes
Hey, Steve Persch here. I'm going to try using this one blog post to serve two purposes.
Announce that any WordPress site on a Performance or Elite plan gets access to 

Object Cache Pro

.

Reintroduce myself in a new role: Director of Developer Experience
Object Cache Pro Included!
And come to think of it…. I kinda feel like I accomplished the first goal in that one sentence above. I mean, what else is there to say?
Oh, I should include a quote from Till Krüss, creator of Object Cache Pro.
To speak candidly, I've hoped to one day be working with the team at Pantheon since Object Cache Pro's inception. It's a vision turned reality for me. Pantheon's containerized infrastructure is a perfect match and their customers will see incredible performance benefits.

Till Krüss, Object Cache Pro Creator
You can also watch this brief video in which Technical Community Manager McKenna Regets and I discuss the fact that Object Cache Pro, a plugin that normally costs $95 a month, has been included for free on all Performance plans and Elite plans.
As you see in that video, there are aspects of Object Cache Pro that I find exciting. I mean, I think it is cool that for developers writing custom plugins, you can call get_post() and not worry about the difference between when the post data comes back from Redis and when it comes back (slightly slower) from the database. For some sites the difference in speed can be dramatic, as Pantheon Product Manager of CMS Performance Scott Buscemi shows.
My Focus in Developer Experience
But as much as I enjoy talking about how Pantheon makes sites faster, I recognize that most of the time, for most developers using Pantheon, it's better all-around when Pantheon makes sites faster in ways that don't require understanding the how.
For me that outlook comes from the fact that I was a Pantheon customer before I was a Pantheon employee. Eight years ago, I teamed up with Pantheon because I liked how as a customer, Pantheon, the platform, felt like an excellent teammate. When I was operating as a tech lead in my last job, I would assign tasks to teammates like "get object caching working." I trusted teammates to do such tasks quickly on Pantheon and without much back and forth. 
Our clients certainly didn't care much about how object caching got installed. They wanted their sites running fast, of course, but they expect more of our billable hours to be spent on the tickets that could see the end results more tangibly than shaving milliseconds. 
That's why, in my new role as Director of Developer Experience, I'm happy to see that we've made the installation process of an object cache plugin even smoother than before with our previous plugin. Less customer time will be spent on that task. And when you want to see that it's working, or how it's working, Object Cache Pro, the respected community plugin that's just better than the version we wrote a decade ago, has dashboards that you can use in conjunction with New Relic Pro (which we also bundle into Performance Plans and above) to see what's happening under the hood.
Image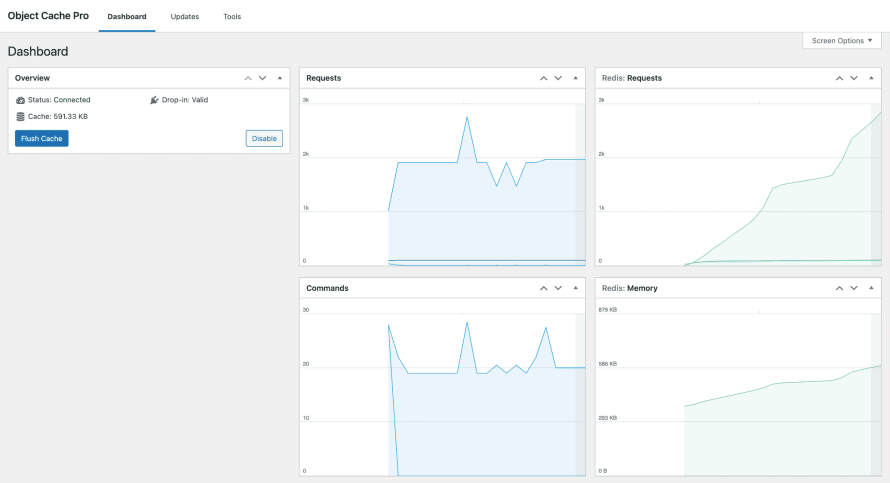 You'll keep seeing videos and blog posts from me that answer questions like "How do I know it's working." Subscribe to our YouTube channel to see more from me and the Developer Experience group at Pantheon. We hope to make it a calm oasis in the otherwise noisy world of web development discourse.
Try Pantheon for Free
Join thousands of developers, marketers, and agencies creating magical digital experiences with Pantheon.