How PEN America Fights Book Bans with a Modern Build on WordPress
Yulia Popova , Senior Manager, Content August 14, 2023 Reading estimate: 3 minutes
Pantheon and Kanopi partner to use a modern WebOps platform to support global voices in journalism and literature.
If a book gets banned, a journalist disappears or a writer gets marginalized, chances are you'll hear it from a PEN America campaign. Founded in 1922, PEN America is a national non-profit working to defend freedom of expression in the US and worldwide by advancing literature and human rights. 
They focus on research, reports, advocacy and public events. Each digital campaign created to support these projects and missions will lead you back to pen.org, a flagship website that gets an average of 150,000 visitors a month. 
"PEN America's website goal is to drive people to its content that promotes freedom of speech. Donating or taking an action [like signing a petition] is why somebody would come to the site," said Rebecca Warner, Account Manager at Kanopi Studios, PEN's web agency. "We recommended Pantheon to them to build a new infrastructure to support these global voices that would otherwise not be heard."
Image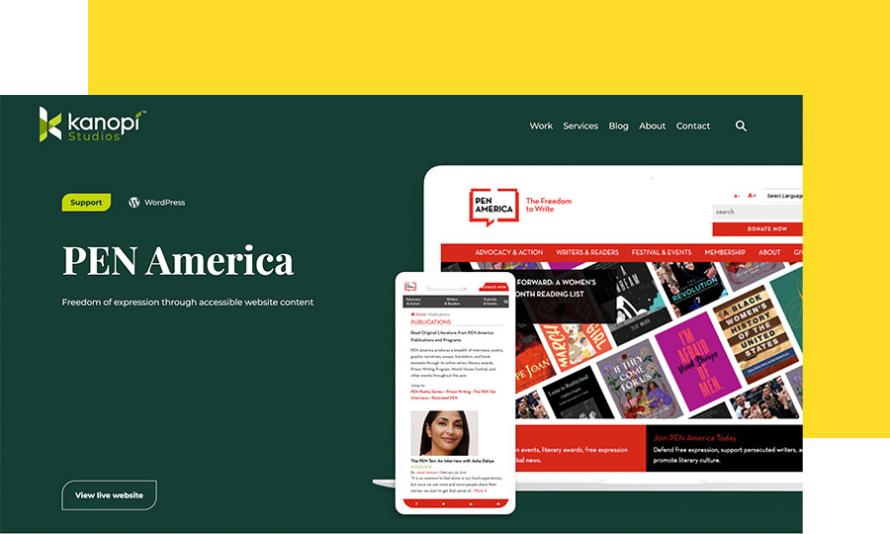 Old Site Was Tumbling like a House of Cards
With no development team of their own, PEN America first came to Kanopi with a basic maintenance request for their five WordPress websites hosted by Digital Ocean. But as the agency took on more work, website operations became a serious pain point. 
"They had the production environment and if they were lucky, a dev environment depending on the property. So we kept running into issues with being able to test features without pushing them to production across all the different properties," said Paul Sheldrake, Engineering Manager at Kanopi. The nonprofit was also running out of file storage space with its legacy hosting provider, which led to occasional downtime. 
On the front end, PEN America struggled with a flexible approach to creating landing pages. They also needed to leverage their website as a platform for a series of online reports. "Their current site's capabilities didn't allow for future growth and expansion," concluded the Kanopi team in their assessment of the work needed. "It was a house of cards, which made releasing big features really scary."
Extra Resilient with Security and Performance Tools
Migrating thousands of pages of content over from an old build was a challenge, but Pantheon offered tools for a smooth transition.
When we were launching, we ran into performance bottlenecks with the suite of old WordPress plugins. Some of them were just not great for performance, but we couldn't get rid of them. I used New Relic on Pantheon to help debug a boatload of them. So the tools that you provide out of the box were very handy."

- Paul Sheldrake, Engineering Manager at Kanopi Studios
One of those tools was the Content Delivery Network (CDN), a feature included on all sites on Pantheon, even free trial sandboxes. It accounts for sub-second page loads that are important for a satisfying user experience, especially where time is of the essence when it comes to requesting a donation or signing a petition. Sheldrake also took note of the security that comes packed into the CDN serving content from near users:
"There's extra resiliency there. PEN America was already using CloudFlare before, so having a CDN component was important to them not just from the traffic perspective, but also from a security point of view." 
For example, when PEN America was launching the Writers at Risk database, the team was concerned about security. "Is our website going to be able to handle it?" was a common question during the launch. It did that and more!
Fighting Censorship with Online Campaigns
PEN America has recently celebrated its first year on Pantheon. Kanopi created a strategy for the nonprofit that would allow them to scale. The new WordPress component-editing system provides the four-person content team with a versatile editing interface. Anyone at PEN America with the right permissions can now create pages in a straightforward way. 
One of the Kanopi developer team's primary concerns was the lack of productivity tools to streamline their work. Pantheon's Multidev allowed them to start new ambitious projects in separate environments, each based on the live site. The team is at peace knowing that what works in a Pantheon Multidev environment will work in production, no longer worrying about releases gone wrong. Kanopi also commonly connects Pantheon Multidev environments to continuous integration workflows that they have demonstrated on Pantheon's YouTube Livestream.
New landing pages and the reports design both helped position PEN America as a modern and innovative organization. One of the recent campaigns raises awareness of the Youth National Poet Laureate, Amanda Gorman, and her book being banned in an elementary school in Florida.
One of PEN America's largest campaigns this year around banned books created a connection with Amanda Gorman, which resulted in an incredible amount of donations. The power of the website cannot be underestimated." 

- Rebecca Warner, Account Manager at Kanopi Studios
Try Pantheon for Free
Join thousands of developers, marketers, and agencies creating magical digital experiences with Pantheon.