Golf.com Doubles its Annual Traffic with Pantheon and Wondersauce
Golf.com reduces its time to market for new WordPress features by 30% thanks to WebOps development tools and workflows.
Image
Golf is one of those rare games where scoring is backward. The golfer with fewer strokes wins.  
A similar success formula works for Golf.com, a digital arm of Golf Magazine. In website performance analytics, the fewer milliseconds it takes for the page to load, the higher returns on investment. 
Take the Masters, the first major tournament of the year. Golf.com saw at least 2.3 million unique visitors browse their WordPress site, the website's highest traffic day ever. In the past, these big events were nail-biters, with the site often failing multiple times throughout the day.
If the fans had to wait for the landing page to load for more than a few seconds, chances are they would have made their way to ESPN or NBC Sports. But this year, they didn't. Since switching to Pantheon, the magazine's page performance and durability improved by 30% allowing sports fans to get their news there and then.  
Image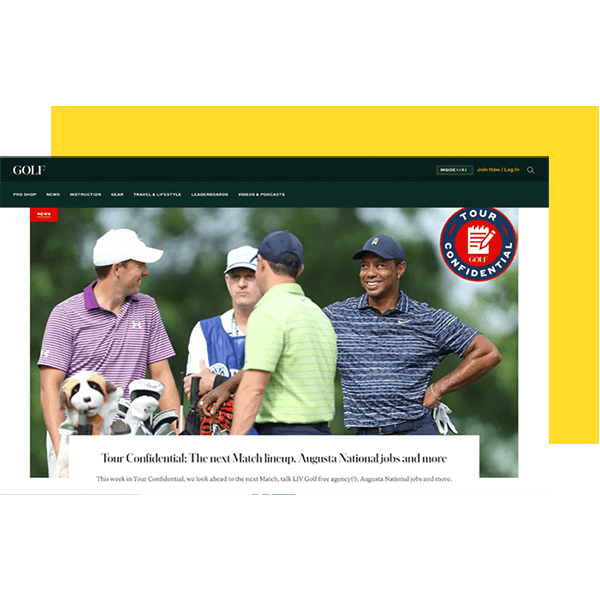 Confusing Web Design Spells Lost Revenue 
Golf.com came to the digital agency and Pantheon's strategic partner Wondersauce with several things needing repair. The list ran long: from slow page loads to frequent site crashes to a confusing web design. "They came to us because they were paying an astronomical amount for hosting and had huge issues with outages," recalled Marc Cracco, CTO at Wondersauce. The site previously ran on a small cloud provider. 
Technical problems meant losses for the business. Golf.com generates revenue from advertising so flawless performance means higher site visits and more ad views.
We had 50% ad viewability before Pantheon and now we are between 80 and 90%. This greatly impacts ad revenue and advertisers wanting to work with Golf.com. 

- Marc Cracco, CTO at Wondersauce
The old build also wasn't using a CDN for things such as image resizing. Their cache-hit ratio was low and content requests kept hitting the site at the origin and slowing down the overall site performance. 
In addition, the legacy provider had a multizone failover offering that used an active-passive model. Moving data from the active site to the inactive site failed so frequently that it was completely untrustworthy for the team. Pantheon has an active-active model with sites using multizone failover. This means that two copies of the site are always available, with only a sliver of traffic going to the failover site. That small percentage of production traffic going to the failover site ensures that it is ready to take the full traffic load should the data center fail.
Solving Site Issues with Uptime and Making Use of Image Optimization
Golf.com did not have an in-house tech team. Marc brought in his development strategy and design teams, scoped the project and recommended the switch to the Pantheon platform.   
Eliminating downtime was the biggest priority. Golf.com's average monthly traffic ranges in the millions of users.
"One of the greatest things that we can do is when we know there's a big tournament coming, we work with Pantheon to make sure they upscale the number of servers spun up preemptively. The reason we do it for Golf.com is that it can hit all at once," said Marc. 
To ensure uptime reliability, Wondersauce recommended Golf.com switch to Advanced Global CDN (AGCDN), Pantheon's enterprise-grade solution that guards against DDoS attacks and helps with caching and performance issues. 
The old build "had a terrible cache hit ratio, around 65%," said Marc. "With Pantheon, the CDN problems were solved overnight. Imagine going from 1,500 users to 10,000 five minutes later. We have to make sure we scale accordingly. And to be able to do that, we now have an excellent cache hit ratio."
Additionally, AGCDN brings a full suite of edge security capabilities that ensures site integrity with a CMS-tuned web application firewall (WAF) and an Image Optimization (IO) feature to shrink critical assets for faster performance. 
Wondersauce installed Pantheon's IO and now the Golf.com team uploads one high-quality asset that will be optimized based on the user's device request on the edge. "It makes a huge difference from the user standpoint, and we also gain benefits from a storage perspective. I wouldn't want to store hundreds of gigabytes of assets for no reason, and that's what was happening," said Marc.
Tens of Millions of New Site Users and Improved Time to Market
Since moving onto the Pantheon WebOps platform, Golf.com has almost doubled its annual website traffic: from 35 million new users in 2020 to 68 million in 2022. What this means is higher website revenue and scores of new projects in the works. 
Pantheon's agile workflows like Dev, Test, Live and Multidev environments free up the Wondersauce team to work on high-value projects. Marc says their speed to market for new features has improved by 30% thanks to all the Pantheon tools and workflows. 
As for ensuring stable uptime, Pantheon guards the Golf.com site with 99.99% efficiency. If outages occur, Wondersauce's CTO commends the Pantheon support team for speed and thoroughness. He recalls a partial outage during one of the tournaments that was caused by a human error on the Golf.com team. They sent a newsletter with a unique UTM parameter in the URL, and it was not configured correctly. As a result, "imagine a million people opening newsletter links and hitting the origin on the Pantheon server instead of the CDN."
Pantheon's Support team and Wondersauce developers investigated the issue and resolved it within one email cycle. 
Working with Pantheon has been crucial. We don't want a dedicated DevOps team on the Golf.com project from a cost and staffing perspective. So having Pantheon fill that role and being able to support all the goals and initiatives when needed is very crucial.

- Marc Cracco, CTO at Wondersauce