Pantheon Professional Services Datasheet
See how Pantheon's Professional Services help you achieve ambitious web project goals
What You'll Learn:
How Pantheon personalizes site setup
Pantheon's white-glove migration process for complex sites
About Pantheon traffic simulations to optimize site performance
Accessing Pantheon's custom training and updates
About Pantheon's individualized consulting services
About This Datasheet
In today's competitive digital environment, migrating and managing complex sites can be a demanding task. Pantheon Professional Services offers a comprehensive solution to alleviate the complexities of adapting legacy code, scaling thousands of sites, or ensuring launch readiness, allowing clients to focus on delivering better, faster websites:
Onboarding & Setup: Configure sites and organizations with expert guidance and support through the launch process.
Migrations: Handle large and complex site migrations with the assistance of Pantheon's Drupal & WordPress specialists.
Pre-Launch & Training: Optimize launch through load testing and quickly train new team members with custom programs.
Training & Managed Updates: Enhance development speed with custom training and leave security and feature updates to Pantheon's team.
Professional Services Hours: Receive personalized consulting and solutions for complex issues, available a la carte.
 
Download your free copy to see how to put Pantheon Professional Services to work for your team today!
Image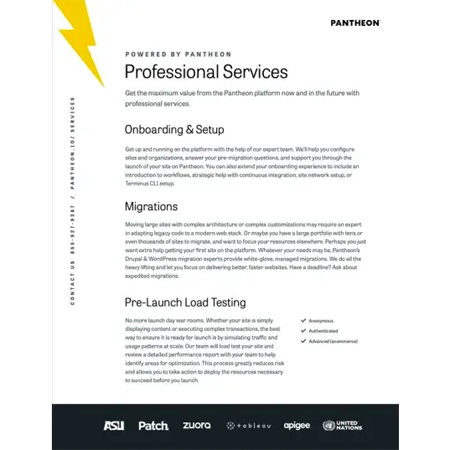 TRUSTED BY HIGH PERFORMANCE BUSINESSES