Vertafore's Relaunch on Pantheon with Aten Enhances Sales Pipeline by 25%
Discover how a top InsurTech enterprise took control of its website and optimized marketing programs by investing in a modern WebOps platform and UX upgrade.
Image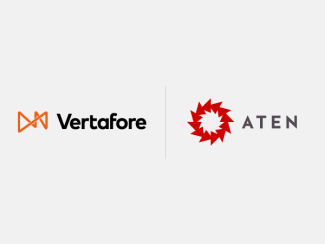 Introduction
Vertafore provides software to solve business challenges and capture new opportunities in the insurance industry. Headquartered in Colorado, the leading enterprise employs more than 2,000 people, serving the US and Canada's insurance markets. 
Vertafore.com is the company's flagship website reaching an average of 100,000 visitors monthly. "The website is crucial to our business because a lot of what we do marketing-wise drives traffic to assets on our site and to certain conversion points to inspire visitors to take the next step, whether that's contacting us, requesting a demo or just moving along in the sales funnel," said Joel Cantalamessa, Senior Digital Marketer at Vertafore. 
Approach
Vertafore partnered with Aten Design Group and Pantheon to redesign the site, upgrade it from Drupal 7 to Drupal 9 and improve its performance. The results manifested promptly through increased operating efficiency, continuous innovation and higher customer engagement. 
Half the time our old website didn't work. So having a fully functional site on Pantheon makes our lives easier and allows us to serve our Sales team and the rest of marketing to spread our message."

- Joel Cantalamessa, Senior Digital Marketer, Vertafore
10%
rise in page visits/session
8%
decrease in bounce rates
Challenge: Stuck in the queue for months for a Drupal update
Vertafore's legacy website was clunky, creating bottlenecks for the marketing team. The company had no internal web development team, so the pain of maintaining and updating the site fell on two digital marketers and a contractor. This was not an efficient way of hitting marketing goals. 
"It was up to me to make sure that core security updates on the backend get done. I'd have to ping our developer contractor and ask them to get us in the queue. Then, we'd have to wait months for them to fit us in and pay thousands of dollars," shared Cantalamessa. 
The next challenge was around the content authoring experience. Cantalamessa's team managed the majority of the Drupal work due to the old build's complexity for the broader marketing team. As a result, daily content updates fell on the digital team slowing them down in their primary responsibilities: to drive qualified traffic to the site through a variety of web marketing levers. 
Pressed for time and lacking control of the website, Vertafore turned to Aten with primarily technical grievances. The enterprise needed to migrate from Drupal 7 to Drupal 9, boost the site speed and improve the authoring experience. 
Image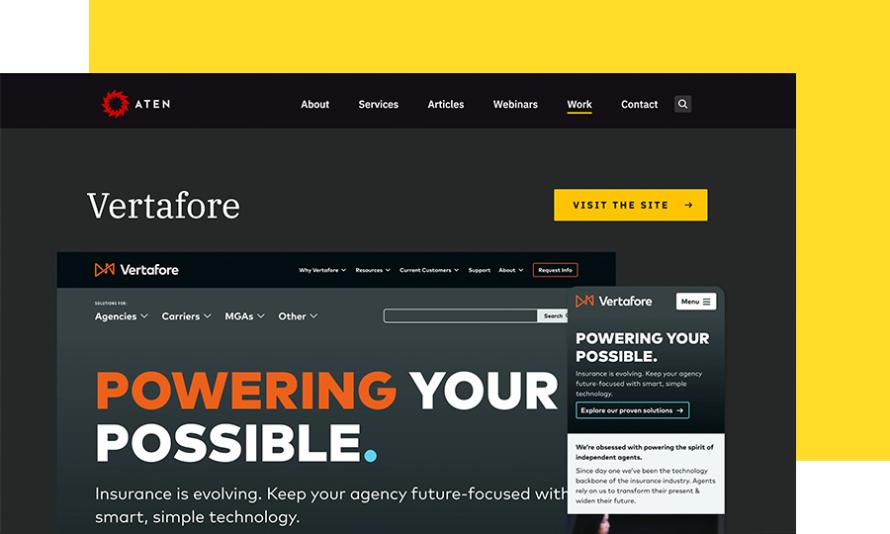 Approach: Leaving DXP, upgrading navigation, tackling content
Aten took on the website redesign and recommended Vertafore replace its DXP provider with the Pantheon WebOps platform to drive greater business impact. 
"That made all the sense in the world. We got much better service, which improved our team's velocity by a wide margin. More so, Pantheon does all the core and security updates for us. It's not something we have to worry about anymore and it's saving us money." 

-Joel Cantalamessa, Senior Digital Marketer, Vertafore
The Aten team handled the migration with ease. Vertafore's marketing team worried about the downtime affecting their customers, but the project went smoothly without any outages.
"Pantheon's team has a lot of experience running Drupal migrations from other platforms, and all their tools pretty much work out of the box," said Travis Tomka, Senior Developer at Aten. "That's great because our clients don't lose any of the value from their existing Drupal investment, but immediately unlock a whole new gear in terms of how fast we can move on improvements."
The site redesign began with identifying navigational and design issues that prevented Vertafore's customers from easily locating the products best suited for their needs. Next came the authoring experience. The new build on Drupal 9 proved to be more accessible to the marketing team at Vertafore and Cantalamessa felt at ease opening up publishing permissions to his broader team. 
"In partnership with Pantheon, we were able to synchronize people and processes at Vertafore. Their IT could finally stop worrying about security and governance. Marketers gained control of their websites. And Aten developers were happy to continue coding in Drupal using Pantheon's modern tools. Pantheon was the glue that kept us together on the path to business velocity for this client," said Tomka. 
Results: Conversion Rates Up, Paid Campaigns Performance Unseen in Years
Aten orchestrated a fresh site design, strategically centered around audience-centric navigation and organization. By entrusting security to Pantheon and development work to Aten, Vertafore's digital team gained time to focus on innovation campaigns. They are now able to create and publish new pages within a day compared to the protracted timelines in the past.
Thanks to all the changes, the Vertafore site has shown a 10% increase in page visits per session, and the bounce rate decreased by 8% site-wide. Vertafore's demand generation team noticed a 25% increase in leads through their paid search and remarketing efforts month-over-month.
The restructuring of our site and the layout and content on our web pages have made for a better user experience. Our paid campaigns for Google Ads, social media and remarketing campaigns are performing better than they have been in years. Our conversion rates have gone up and cost per conversion has gone down significantly."

- Joel Cantalamessa, Senior Digital Marketer, Vertafore