Go Big, Get it Right: Three Strategies to Scale Your Digital Experiences
Stuart Gottesman August 11, 2022 Reading estimate: 4 minutes
How to stop settling and start delivering impact on your website.
Many organizations settle for far less than they could achieve with their website. Despite all the innovations in Martech over the past decade, few have moved beyond updating content to maximizing their site for achieving real business results. Your digital presence is your most powerful asset, and to make the next big leap in business results, you need the right strategy, the right platform and the right people and processes working together. 
Sounds daunting? It's easier than you might think, especially when you break it down into iterative sprint-like steps. In a recent webinar, Pantheon Co-Founder and Chief Strategy Officer Josh Koenig and FFW VP of Strategy, Andrew Willden shared their top three strategies for creating scalable digital experiences that drive impact. Read on for a summary or watch the full webinar.
Image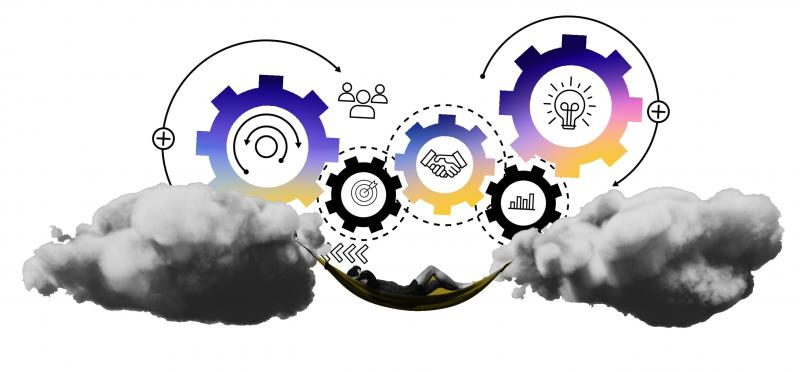 Strategy 1: Tech is Not the (Whole) Answer: People, Platform and Processes
Too often, organizations get stuck looking for a silver bullet tech solution that will transform their digital experience. And while the right technology for hosting, automating and managing the web experience is an absolute prerequisite, it's not the whole solution. Top performing organizations maximize the value of their technology, people and processes to:
Run omnichannel digital experiences as a finely tuned lead and revenue generation machine

Make changes to the front-end experience, look and feel without using development resources

Easily conduct A/B testing with personalization options and integrated business intelligence

Understand what visitors want and deliver personalized, impactful experiences
When there is a breakdown, often it's not so much an individual component that isn't functioning but a lack of alignment between teams and processes. 
When in doubt, go back and ask the question: what are we trying to achieve and why. If you can get everyone aligned on 'the why', then you can more easily overcome roadblocks such as a lack of budget, lack of political capital or lack of internal resources.

- Josh Koenig 

Strategy 2: Build Confidence in a Practice
Creating a practice around your digital strategy means that you manage your website with the same focus and rigor that you apply to your other products and services. For example, do you have a product roadmap for your website? Is there enough focus to set a goal with digital and achieve it? Can your team work together to answer the simple question: what's the most efficient, effective and delightful way to get your users where they need to go? 
A well-managed WebOps practice can help you answer these questions and make it easier to set short-term, realistic goals that allow you to drive results within a few months vs. a few years. This is really about up-leveling the way people collaborate and eliminating silos between IT and marketing.
"WebOps comes down to something transformative and simple: how can you focus on doing something you couldn't do before?" said Willden. "It's not just about the technology choice, it's about rethinking how everyone uses technology to achieve what they need to do and building a practice that can scale over time."
Your practice doesn't have to be all in-house. Your vendors and agencies should be fully integrated into the process, with the whole team aligned around the same goals and metrics.
Strategy 3: Look to Composable Stacks to Scale Impact
Sometimes one group within an organization will create a successful digital program but can't scale it out to other groups. This often happens because they are trying to unify everyone into one solution. While there's an obvious appeal to having a "miracle suite," these suites are often made up of individual solutions that don't always have the most robust functionality and often aren't really integrated. Trying to force everyone into a one-size-fits-all solution ends up not offering enough flexibility to solve the needs of any group.
A stack-oriented or composable approach is inherently more flexible. It lets you treat your website like a digital product vs. a static asset so you can add capabilities when it makes sense to do so, and in a way that is faster and more scalable. That way when you get a new CMO, experience a merger or a pivot, or have a major decision change, you can react quickly instead of spinning up a one to two-year project that won't see results before the direction changes again. 
With a stack-based approach, you can develop a hypothesis and move on it quickly instead of having to be 100% certain. For example, rather than taking on a project to redesign the site architecture for a brand with several sub-sites, you can make changes to just one subsite, measure the results, develop a practice around that change and then scale it out to the rest of the organization. You'll achieve results faster while also sharpening your practice and be able to leapfrog your goals.
Creating a top-performing digital experience is not a one-and-done approach. As business evolves, you'll need a strategy to evolve with it. By creating a solid WebOps practice, gaining clear alignment around your initiatives and working with technology that supports an iterative approach, you'll be able to make small improvements daily that add up to big results over time.
For more great tips, watch the full webinar here.
Try Pantheon for Free
Join thousands of developers, marketers, and agencies creating magical digital experiences with Pantheon.